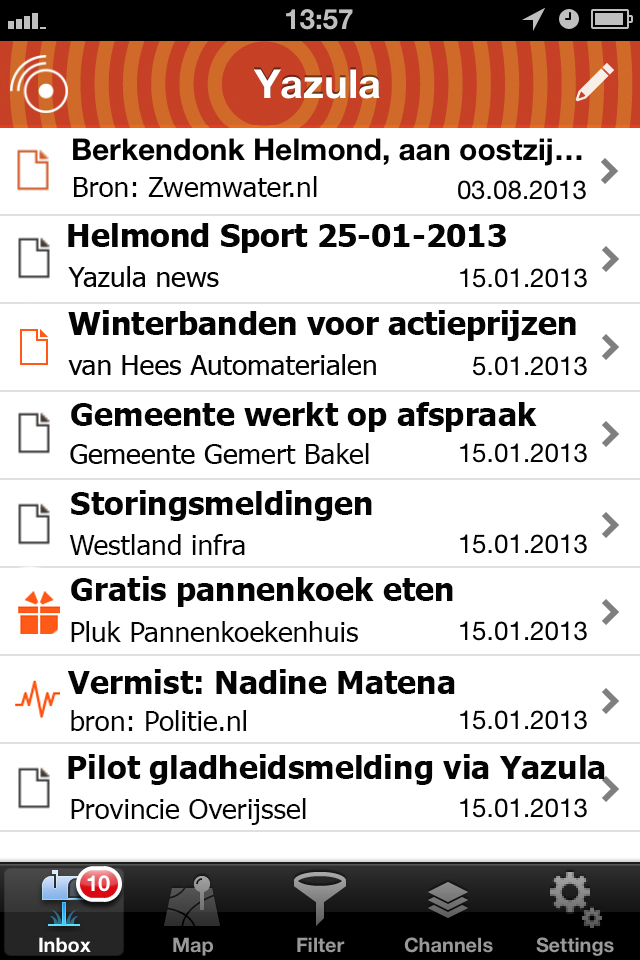 Explanation inbox
A double click opens the message. A message can contain text, a picture or video.
Once a message has been opened you will identify 4 options:
Respond/Reply (call, email, twitter and block company)
Delete message
Open message posting
Start navigation.
Shortcut to adjust geo reach
You can easily adjust the messages geo reach by selecting either the highway or home option. These options can be found in settings.
Map explanation
All messages are shown in the map setting with the exception of the "gift messages".
Channel explanation
By means of channels you can activate or deactivate categories allowing you to define and drive your personal interests.
Once a channel has been deactivated you will receive no more messages on that topic. You can also block a message within a channel.
Setting explanation
In settings you can change 2 parameters:

1. The geo reach of the highway and or home mode;
2. The GPS mode


Adjust the geo reach
The geo reach of the home setting can vary between 50 and 500 meters. The geo reach of the highway setting can be set between 500 and 10,000 meters. When receiving too many irrelevant messages, you can change the reach of the app in this setting.


GPS mode
The IOS app has 2 settings. A GPS save mode en a mode where the last setting continues to be used to trigger new messages. When opening the app or the inbox the last GPS position is determined immediately as the trigger for new messages.
---
You can download the IOS app in the Apple app store. The iOS app works on iPhones and iPads.
Download Yazula for IOS
The iPhone or iPAD must have version iOS 5 or higher. The device will also need a GPS and internet capability.